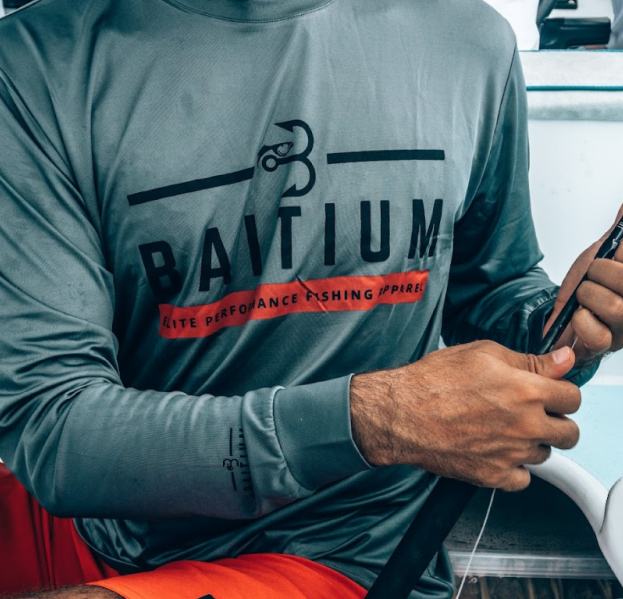 Let's be clear—we at Baitium are absolutely passionate about fishing, and we know you share our love for the sport! Whether it's kayak, shore, or deep sea fishing, we've been there, done that, and found ourselves longing for better gear.
Discover the Baitium difference
Our fishing adventures inspired us to create Baitium's straightforward vision: to craft fishing apparel that combines exceptional performance, unmatched comfort and protection, and a sincere commitment to sustainability.

Our mission: to combine style and sun protection to create a solution, not a contributor, to environmental challenges.

At the heart of our innovation is transforming waste into wearables, with Baitium fishing shirts created from eco-conscious materials and with styles and designs you actually want to wear!
01
Materials that Matter
We're all about shaping a future where fishing apparel and gear contribute to the solution, not to the problem, of environmental challenges. Around 15 to 20 plastic bottles go into the making of the majority of Baitium shirts, instead of ending up polluting bodies of water or landfills. Sustainability is our guiding principle, not just in making our products, but also in nurturing a community of anglers committed to environmental respect and stewardship.
02
Trusted, Loved, and Endorsed by Both Pros and Casual Hobbyists
In a sea of emerging brands offering performance fishing apparel, Baitium is definitely rising to the top. Across the United States, we're a proud partner of over 100 anglers and counting. We've also been recognized as Amazon's Choice for Fishing Sun-protectant Hoodies and Fishing clothes for Men, and made it to several favorites lists. To top it off, we have garnered an average rating of 4.8/5 stars on shopping platforms. These recognitions inspire us to further up our game for everyone who loves fishing.
03
Sun-Protective
Sun safety is our priority. We've engineered our shirts with UPF 50+ fabric that safeguards you from sunburn, premature aging, photosensitivity, and skin cancer risk. They're perfect for recreational and professional anglers and simply anyone who is exposed to sun, wind, and water.
04
Moisture-Wicking, Quick-Drying
Our high-performance fabrics offer a unique moisture-wicking and quick-drying system to keep you dry, comfortable, and free of less-than-pleasant odors even during the most intense of fishing adventures.
05
Four-Way Comfort and Fit
Baitium performance fishing shirts are designed to allow for ultimate comfort whether your reeling in a personal best or grabbing a cold one with your buddies. No more baggy shirts that snag on every hook, and no more tight clothes that limit your range of motion. Baitium shirts compliment your form, so you can focus on landing that lunker. They also come pre-shrunk so you can expect a perfect fit from the first wear till the last.
06
Diverse
We believe in individuality, and our diverse range of designs reflects that. Do you wish to flaunt your favorite species, or are you drawn to minimalism? We've got a style for every preference, made to last with durable, vivid, and high-quality printing.
Elevate your fishing experience with Baitium
Fishing isn't just a hobby for us; it's a lifestyle, and we need our clothing to keep up. When you choose Baitium, you're not just choosing high-performance, protective, comfortable gear - you're choosing a better future for fishing and the environment that makes it possible.
Shop Baitium's best-selling Eco-conscious UPF Performance Fishing Shirts here
Social Media incentive!
We LOVE to see you wearing our gear! It lets us know that we at Baitium are doing our jobs and fulfilling our mission. Tag us in your Instagram,Tiktok, Facebook or Youtube video, DM us letting us know and we'll send you over a shirt on us! Woohoo!